We are back doing double treatments in our beautiful Garden Suite. Due to Covid19 we can not offer parties at this time, But if you wish to have a very quiet, private space for your service with a person in your bubble if your single or some one in your household we are happy to offer this space for appointments. This is a perfect space for couples to enjoy relaxing treatments together. Please Ask at Time of Booking, please note pricing below and not all staff members offer services in the suite!
If you are looking to celebrate a special occasion or just relax and indulge with friends, wedding celebration, office party, birthdays, or Christmas party. We take care of all the details.
Our garden suite is separate from the main spa and is extra quiet for those relaxing treatments. It is also a perfect space if you want to laugh with friends, you don't have to worry about disturbing other guests!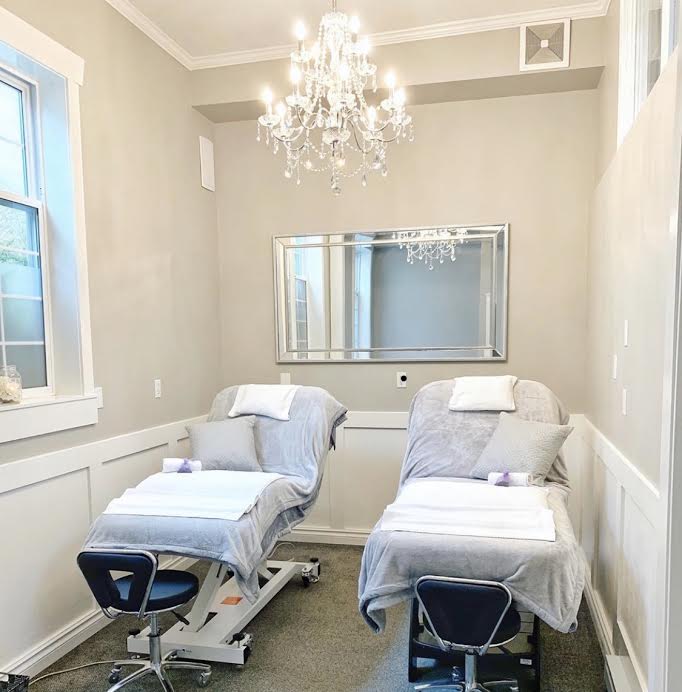 Bliss offers a seamless way to organize large numbers of guests to ensure your group has the best day possible. The space has its own waiting room that is great for setting up snacks if you want to bring any with you!
Services
---
Relaxation Massage 75 min – $112 per person
Massage Practitioner 75min – $112 per person (deep pressure)
RMT Massage 60min – $120 per person
Cleansing/Eminence Facial – 125.00 per person
High End Facial – starting at 175.00 per person
Aromatherapy Pedicure – $90 per person
Bliss Signature Pedicure – $100 per person
Copithorne & Rowe Pedicure – $105 per person
Yonka Luxury Pedicure – $110 per person
1 Hour Pedicure – $80 (Paraffin pedi or 1 hour pedi with polish)
Mini Manicure & 1 Hour Pedicure – $140.00 per person
Aromatherapy Manicure & Aromatherapy Pedicure –
$160.00 per person
*We recommend Campus Hair Design for Hair as they do amazing work and are only 2 minutes away on the UVIC campus.
**For your convenience, we ask that a visa card be used to hold the booking and payment for all services and gratuities (20%) will be put through one week before the services are done. This allows us to focus on creating a special occasion that is relaxing, memorable and paperwork free.
Call 250-658-0333 or email info@mybliss.ca to make your group booking today!